Prophetic ministry in the church today
What is the prophetic? What is prophecy? What does it look like in the modern church?
The prophetic gift is one of the most amazing gifts to function in. So much so that Paul says that you must eagerly desire to prophecy. But sadly these days you don't see many people operating with this gift on any level.
The prophetic has been widely misused and misunderstood over the last few hundred years. You read in the old testament how a prophet got angry and called out an animal to kill the children who mocked him, then you read in the New Testament where Paul speaks to the Corinthians warning on how to use the gift what to do and what not to do. In other parts you read about how you should eagerly desire to prophecy. In the midst of these we also have some role models who we feel look and act like the prophets in the Bible. You get the prophecy gift, the fivefold ministry gift and various uses of it.
It is so important that when you study in the Bible to take the whole Bible into context. Firstly God does not contradict Himself. Everything has to fall in line with the pivotal middle point Jesus. You cannot take one verse, and make a whole theology about it. It has to be in tension with scripture as a whole. There are so many scriptures on the prophetic and unless you take things into context you can easily arrive at a place of confusion where you misrepresent God, see things that are not, and quite often say things you should not.
There are a few elements that we should have a look at that are clearly defined in the Bible, and I will put them in the order of lowest to highest calling.
The prophetic in the Bible is nicely defined in the following:
Workings of God – Given by God
Gift of the Holy Spirit – Prophecy (Gift ) Given by the Holy Spirit
Gift of Christ – Office of a Prophet (Calling) Calling from Jesus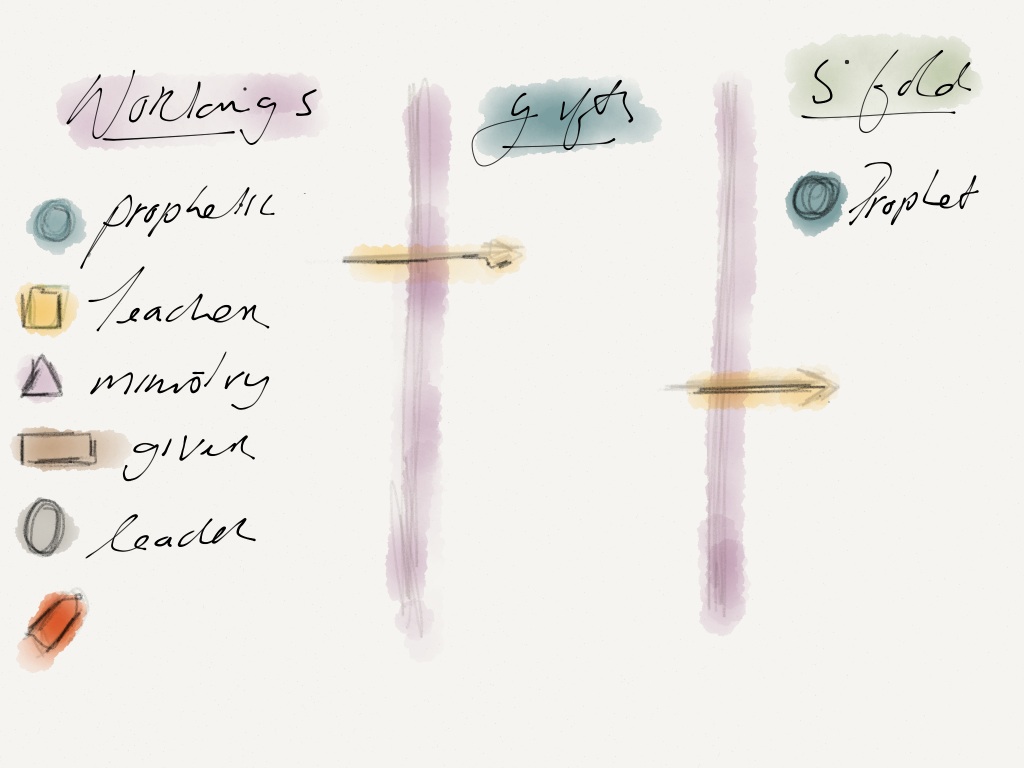 1.Workings of God - prophetic
These are the 7 basic character types discussed in one of my other subjects so I will just give an overview here.
(1)Prophetic,
(2)Server,
(3)Teacher,
(4)Encourager,
(5)Giver,
(6)Leader,
(7)Mercy
1 Cor 12:4-6
4 There are diversities of gifts, but the same Spirit.
5 There are differences of ministries, but the same Lord.
6 And there are diversities of activities (Gifts given by God, different types of workings), but it is the same God who works all in all.
Rom 12:4-8
4 For as we have many members in one body, but all the members do not have the same function,
5 so we, being many, are one body in Christ, and individually members of one another.
6 Having then gifts differing according to the grace that is given to us, let us use them: if prophecy, let us prophesy in proportion to our faith;
7 or ministry, let us use it in our ministering; he who teaches, in teaching;
8 he who exhorts, in exhortation; he who gives, with liberality; he who leads, with diligence; he who shows mercy, with cheerfulness.
Generally it is accepted that within this gift set you will have 2 or 3 of them as your strengths and 2 or 3 of these gifts as your weaknesses. For example you might be a strong leader, with prophetic and giver gifts. But then you could have mercy, exhortation and ministry as your weak points. Knowing your weak gifts are as important in the body of Christ as knowing your strong gifts. If you have this gift set that I used as an example, you might be able to lead without a problem but because mercy, exhortation is your weaker gifts you will probably be harsh, and hard on people. I am not going into depth about this point as it is outside the scope of this discussion.
Someone else will have strengths where your weaknesses are, and your strengths will fill in where there are weaknesses. This is why you should function. The body serve each other. It is not just the pastor's work to function but the actual priesthood of all the believers. It is extremely important to recognize these gifts in people especially those the church call up into leadership as it would greatly influence the way they do things. It would also greatly help to know what are their weak points so that you can assist them in growing.
What does this gift from God look like?
The Greek meaning of this word (prophetic) is forth teller, inspired speaker. Generally if this is one of our stronger gifts it will influence your character. You find people with a very strong prophetic gifting and calling to have some or all of these below:
Character:
very direct,
they tend to be radical,
very black and white
Situations always cut and dry
Strengths:
You know where you stand with these type of people
They are usually outspoken
Organized, and organisers
They get the job done
Weaknesses:
They are not great on the compassion and mercy side.
They can quite easily hurt people because of their direct approach and saying things as it is.
As usually they know what they want and where they are going they can easily make others feel threatened.
Being radical makes this person very susceptible to wrong theology and going off on a tangent, they really need to function in a team.
They expect others to be direct back to them and don't understand beating around the bush and suggestive motives
Not a lot of mercy in this character, they don't like pity parties.
This person can easily become very negative if they are not in the Lord.
Keep in mind this is the gift/workings of God I am talking about. If you have a strong prophetic calling on your life you need to draw close the Holy Spirit so that you can develop in this gift. You must allow the fruit of the Holy Spirit to grow in you that you can become compassionate and able to flow with the Love of God revealing God for who He is. You will need to be a team player, on your own you will miss it and run around.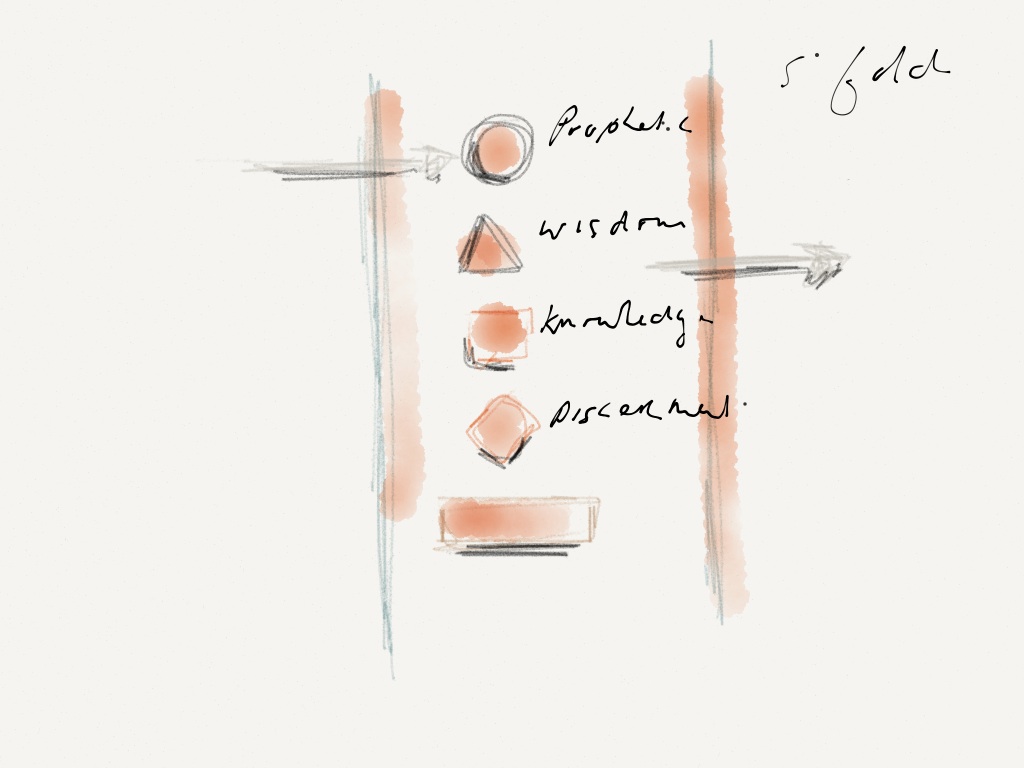 2.Prophetic Gift of the Holy Spirit**
Simply put prophecy is God speaking to us. He communicates His purposes to you for the benefit of others.
a. This Gift is available to EVERY Born Again Christian once they are filled with the Holy Spirit.
b. This Gift from the Holy Spirit is a gift for ALL, for EVERY believer, in other words it is for the mature, and immature.
c. All the gifts of the Holy Spirit are available to ALL no matter what their CALLING.
d. These Gifts can function at any time should you allow the Holy Spirit to work through you.
You must understand that being able to prophecy is not a sign or measure of our maturity in Christ or our stability in the Lord. Personally I feel that these gifts are part of the "anointing" what people often refer to.
You are called to function with this prophetic gift and should as Paul states it, earnestly desire to prophecy in the verse below you would see why it is so important for the body to function with this gift specifically.
So how does this gift look like in the context of today?
View the following verse:
1Co 14:3 But he who prophesies speaks edification and exhortation and comfort to men.
Here Paul is speaking about the gift of prophecy, 1 of the 9 Gifts of the Holy Spirit. It clearly states the following that this prophetic gift is for three main reasons:
Edification
Exhortation to strengthen
Comfort
Should you function with this prophetic gift, which is very different from the Prophetic five fold ministry Gift of Christ, then you have to function within these parameters. When you bring a prophetic word under this anointing it is for edification, exhortation, and comfort of others. It is not directional at all. It is always in LOVE, not portraying an Angry God as it has been done over the years.
It is easy to spot a person function with this prophetic gift who functions incorrectly under the wrong authority they would say something like: "if you don't do this, then that would happen", whenever you hear that statement you know that this person is functioning incorrectly with this gift. There are many other examples of how not to do it but not within the scope of this blog.
This gift functions when the body gets together.
Normally this gift doesn't function on its own you would often see these following gifts working with the prophetic anointing: Words of Wisdom, Words of Knowledge, and Discernment. Whereas the Gift of Wisdom is normally a specific word for the Now, Gift of Knowledge is knowledge of past or present things, gift of the Prophetic is for the future, and Discernment is to see what is going on whether it is in the natural or spiritual.
It has to be said that the greater authority you carry in Christ the greater effect/impact your words would have. The clearer you are able to hear God, and portray His heart. This is where you need to watch what we say. The more authority you carry the more you should watch what you say. This is why you see people who are babes in Christ say many things but nothing happens, good or bad. But when a man of God speaks things happen. I Peter 4:11:"if anyone speaks, he should do it as one speaking the very words of God"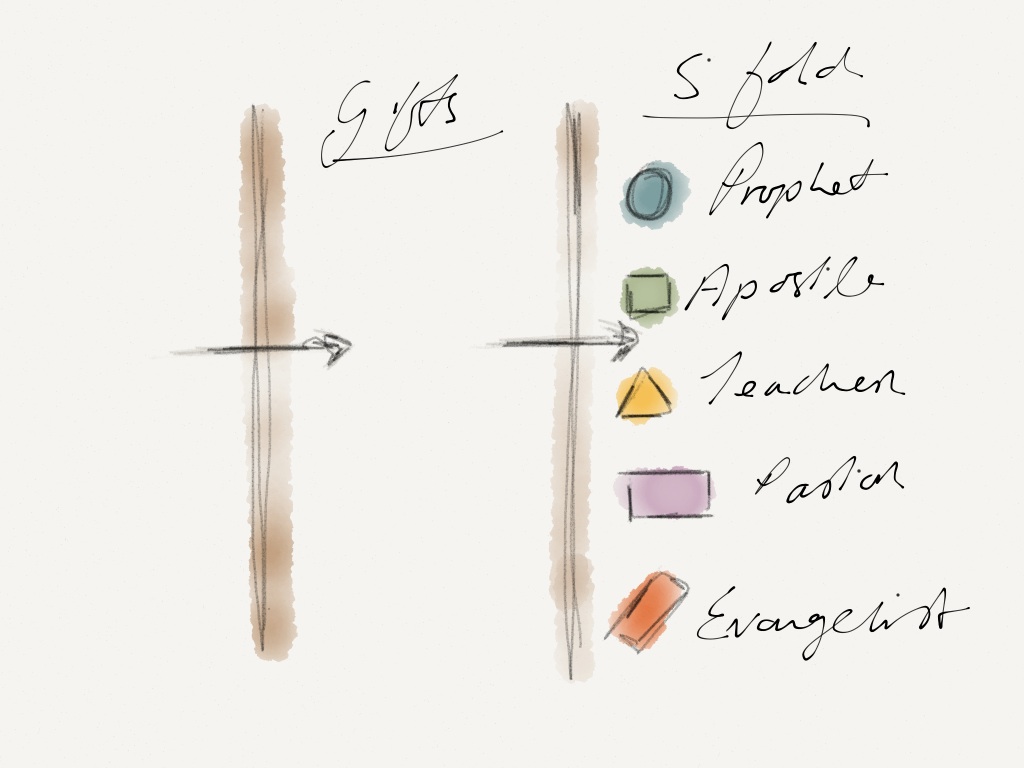 3.Prophet – Gift of Christ (Five Fold Ministry)**
This is a calling from Christ Himself. He chooses people to be prophets. You cannot decide one day that you are going to be a prophet. It is a calling. This calling is different from the prophetic gift. Having a prophetic gift does not make you a prophet.
The Call: It is not what this person does but who they are. True prophets are born prophets. Jer 1:5. Once this person is born again then the training starts to hopefully one day function within the office of a Prophet.
What is the role of the prophet?
Establish Kingdom foundations in the Church, and Believers (Eph 2:19-20) (with the Apostolic)

To identify strongholds
To identify ungodly/compromising foundations

Division
Jezebel
Religious
Controlling
Manipulation
Etc.

The prophet must function with the other Five Fold Ministry callings.
What is the difference between being a Prophet and functioning with the Prophetic Gift?
Lets first look at what is similar between these two. They have the same purpose.
Mal 3:1-4 & 4:5-6"
1 "Behold, I send My messenger, And he will prepare the way before Me. And the Lord, whom you seek, Will suddenly come to His temple, Even the Messenger of the covenant, In whom you delight. Behold, He is coming," Says the LORD of hosts.
2 "But who can endure the day of His coming? And who can stand when He appears? For He is like a refiner's fire And like launderers' soap.
3 He will sit as a refiner and a purifier of silver; He will purify the sons of Levi, And purge them as gold and silver, That they may offer to the LORD An offering in righteousness.
4 "Then the offering of Judah and Jerusalem Will be pleasant to the LORD, As in the days of old, As in former years.
5 Behold, I will send you Elijah the prophet Before the coming of the great and dreadful day of the LORD.
6 And he will turn The hearts of the fathers to the children, And the hearts of the children to their fathers, Lest I come and strike the earth with a curse.
To Prepare the way (Mal 3:1), to prepare the Bride (Mal 3:2-4), and to usher in Father hearted leadership (Mal 4:5-6)
What is the purpose of the prophetic anointing?
For Jesus to communicate with His Bride
To prepare the Bride
Weapons of warfare, the prophetic reveals the schemes of the enemy and man
It gives the power to proclaim and prophecy in order to heal the broken hearted and setting the captives free.
Prophecy is the testimony of Jesus Rev 19:10
It must also be noted that not all Prophet calling are with the same capacity. You have Prophets whose call is for the nations, or to a nation, or to the church, or to a smaller home group within a church. Each person with this calling needs to find out in God what their capacity is, and start to function within that. It is important to note that the prophet is not a gifted person, they are the gift.
Overview of all the gifts mentioned in this article:
Workings of God Holy Spirit Gifts The Office (Five Fold Ministry)
Identity Ability Calling
Leadership
5 Vocal Gifts Apostle
Prophet Prophecy Prophet
Teacher Words of Wisdom Teacher
Encourager Words of Knowledge Evangelist
Server Tongues Pastor
Mercy Interpretation of Tongues
Giver
3 Healing Gifts
Faith
Gifts of Healing
Signs and Wonders
1 Gift of Discernment
Discernment